B5864F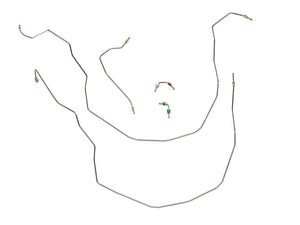 Front Brake Line Kit. 5 Pcs. For Use with Aftermarket Valve Mounted by Master, Fits: 1958-64 Chevrolet Biscayne, Bel-Air and Impala
Regular price $89.00 Sale
For vehicles converted to power front disc brakes using one piece brass valve. Compatible with 1958-1964 Chevrolet Biscayne, Bel-Air and Impala

For Front Disc / Rear Drum Vehicles. All lines included from master cylinder to valve, valve to front wheels, valve to the rear and the pair of lines over the rear axle.

Kit includes master cylinder lines, Valve to Left front line, Valve to Right Front Line and a Crossover line that runs to the passenger side to meet up with the factory front to rear brake line.

Made from 304 Stainless Steel or Galfan coated steel tube, Plated Steel Fittings and Stainless Steel Spring Guard where applicable.