MCTOOL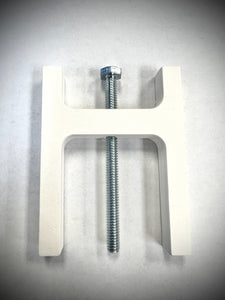 Brake Adjusting Tool, Master Cylinder To Brake Booster Mouting Gauge
Regular price $19.99 Sale
This tool helps you get the correct distance between master cylinder and brake booster needed.  This will only work on boosters that have a rod that can adjust out from the center.  You can run into brake issues if the depth of the master cylinder is not met with the correct length rod coming from the booster.
Put the small side of the gauge against your master cylinder and turn the screw until it contacts the master cylinder.
Turn the gauge over to the opposite (deeper) side and adjust the brake booster push rod until it contacts the rod. Then adjust to allow a .005" minimum gap to ensure there will not be pressure on the master cylinder.
Mount your master cylinder.