TSS79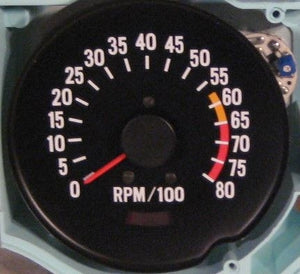 1970 - 1972 Dash Instrument Cluster Gauge 6.5 X 8K Tach, TACHOMETER, 8000 Redline 5657056
Regular price $229.00 Sale

6500 X 8000 Redline Tach!

New correct design 5657056 tachometer for 70 - 72 and 71 & 1/2 Z/28 350 360HP Camaro. This Z-28 Tach version features the correct 8000 redline. Exact numbering fonts and color matches.
This BRAND NEW Z28 1970 - 1972 Camaro tachometer replicates the original down to the finest detail but with updated technology! Now you can install this tach using both points or electronic ignition such as HEI or MSD..ect. You can even program this new tach for either V8 or LS engines! Officially Licensed GM Restoration Partå¨. Tachometer perfectly duplicates the original's appearance but with today's technology.
This tachometer was available for all Camaro models equipped with the original factory gauge package. Tach will fit any 1970 - 1978 Camaro model. Replaces GM # 5657056 perfectly.

Note:
6500 RPM to absolute maximum of 8000 RPM redline.


NUMBER: DAS-1057